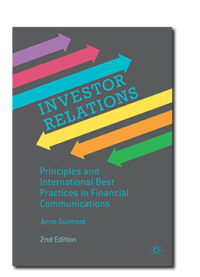 This practical manual combines the art and science of marketing, financial and communications in a single source.
Full of hepfull tips and successfull ideas, it provides a waith of both strategic and tactical advice on how to implement Investor Relations from any perspective in the world. It takes the reader, novice and expert alike, through the essential steps for understanding, convening, ultimately marketing value.
With a view to present Investor Relations as a tool to be leveraged and a process to be mastered, Anne Guimard's comprehensive guide to international best practices offers many easy-to-use and reliable pedagogical features, such as financial calendars, financial press release templates, etc.
Fully updated for today's practitioner, this second edition covers the latest trends in Investor Relations such as social media, but also new topics: the impact of macro-economic conditions on financial communications, the growing importance of Debt Investor Relations and of Environmental, Integrated Reporting, Social and Governance issues. It has been substantially expanded to discuss career opportunities in Investor Relations, to address the challenges of migrating to International Financial Reporting Standards and to include many new resources, guidelines, checklists and templates.
This book has received many positive reviews and is featured in The National Investor Relations Institute's recommended reading list (USA). It is also on the recommended reading list for candidates studying for the UK Investor Relations Society's Certificate in Investor Relations qualification (UK).
Table of contents
Completing for Capital

Seven Keys to Successful Investor Relations

Implementing Best Practices in Investor Relations

Measuring the Value of Investor Relations
Available in hardcover and ebook available on palgrave.com [http://www.palgrave.com/de/book/9781137337399], amazon.com and other major distributors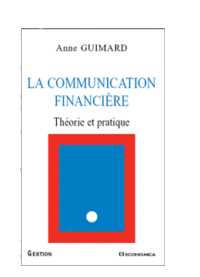 La communication financière est un véritable outil stratégique au service du développement des entreprises, quelle que soit leur taille, qu'elles soient introduites en Bourse ou recherchent des partenaires pour financer leur croissance.
Mettent à profit plus de vingt ans d'expérience, ce quatrième livre d'Anne Guimard est autant un ouvrage de référence qu'un manuel unique en son genre, avec des fiches techniques. Un accent particulier a été mis sur le respect des meilleures pratiques au niveau mondial.
Cet ouvrage à vocation pédagogique s'adresse aux dirigeant d'entreprise, responsable de communication, banquiers, analystes financiers, étudiants et enseignants.
Table des matières
Etre coté en bourse : conquérir un nouvel environnement concurrentiel

Les facteurs clés de succès de la communication financière

La stratégie de communication financière

L'évaluation du retour sur investissement
Ce qu'ils en pensent : « L'intérêt de l'ouvrage d'Anne Guimard est son réalisme, qui peut s'appliquer à tout émetteur, quels que soient sa taille ou son secteur d'intervention. Il donne des pistes pour mesurer la performance quantitative, mais aussi qualitative de la communication financière » Revue d'analyse financière, avril 2008.