Maintaining investor confidence in the age of Covid-19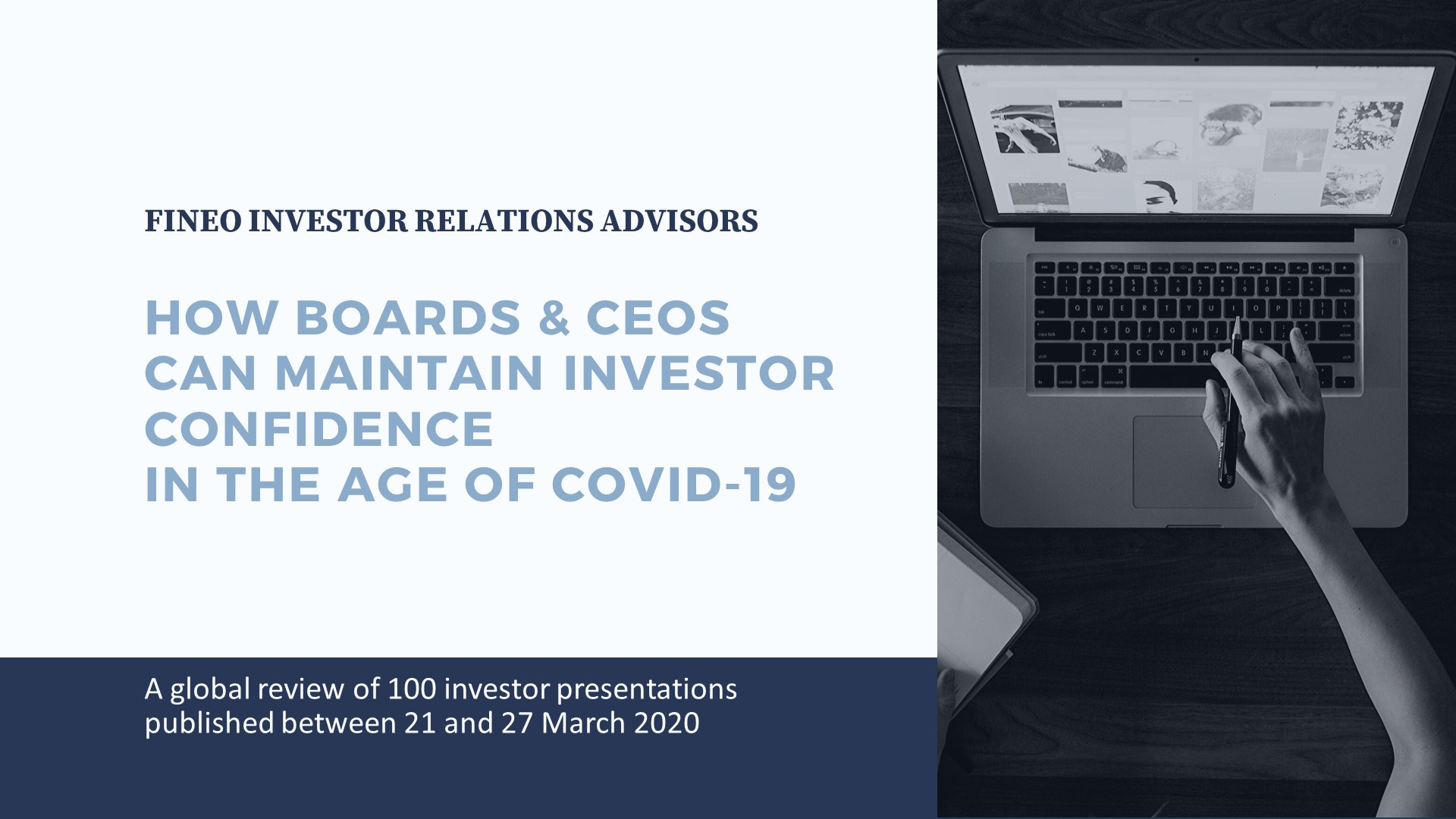 For the benefits of Boards, CEOs and Investor Relations teams that are preparing for the upcoming « earnings season », we have analyzed the 108 investor presentations that were published last week around the world, using « covid-19 » or « coronavirus » as keywords.
Here are the key findings:
Companies reporting results in March 2020 (full year 2019 or other):
often discuss Covid-19 in the introduction of their results presentation, even before presenting the key performance indicators of the period under review

At the very least, mention Covid-19 in the "outlook" section. In the case of pre-existing guidance for 2020-2021, it is not uncommon that guidance is suspended or removed altogether.

Few companies provide quantified objectives for the current year; the majority of the presentations uses cautious language, highlighting adjustment measures and financial strengths instead.

Several companies also explain the opportunities that the crisis is likely to generate for their businesses.
5 companies in our sample have developed ad-hoc presentations to address the risks, challenges, opportunities and impacts of Covid-19
While investor presentations and roadshow presentations do not always make any reference to the Covid-19, one notes that disclaimers are being gradually updated to include risks related to the pandemic.
Such shareholder engagement and communications efforts are critical to maintain investor confidence, as we progress in uncharted territory. It was the case back in 2005 when European companies migrated to IFRS. For the record, 51% of CAC 40 companies that had organized a meeting or conference call on IFRS saw their stock price go up or down by less than 1%. Then, in 2009-2009, the global financial crisis saw slides about bank covenants and liquidity positions become key agenda items, instead of being relegated in the appendix of presentations.
Our study aims at providing you with real life examples. For instance, you will see how to address « succession planning » in your Covid-19 comments or how to update your outlook section.